The Villas
Overlooking Wheelers Bay, nestled in a southfacing hillside are a selection of comfortably furnished, fully self-contained villas. The villas available are 3 bedroom, 2 bedroom and 1 bedroom in size. 

You will be pleasantly surprised by how spacious the villas are and by the superb seaview that greets you.  The villas have private parking, some have parking immediately by them and some have parking in the private villa carpark. Each villa has their own outdoor area to sit and enjoy the view.
Please enquire about our dog friendly villas.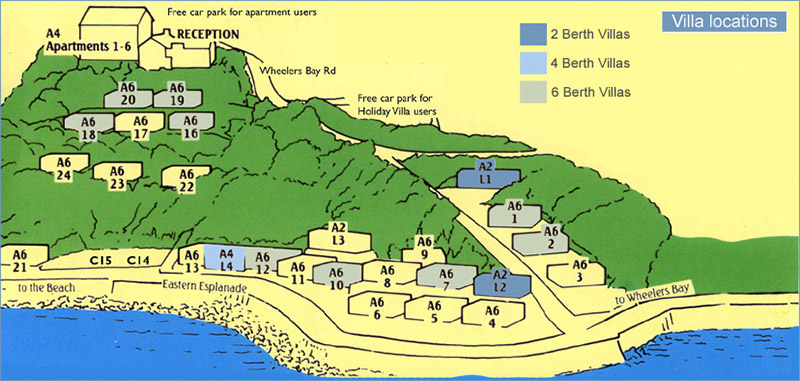 Click to view larger map of villa sites
10 minutes walk to beach, shops, great pubs and restaurants
10 minutes walk to green/play park and renowned island paddling pool
15 minutes walk to picturesque Bonchurch village or Bonchurch beach (dogs allowed)
3 Bedroom Villas (6 occupants)
3 bedroom villas are detached, offering good size accommodation with outdoor seating areas, they have fully equipped modern kitchens, great family bathrooms, living room/dining room with TV with freesat, panoramic sea view. The 3 bedrooms incorporate: 1 double, one large twin and one small twin bedroom.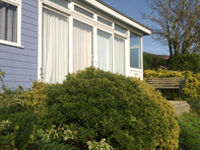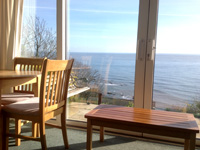 2 Bedroom Villa (4 occupants)
We have only one 2 bedroom villa, it is a very nicely presented villa with a private decked area to the front, It has a fully equipped modern kitchen, great family bathroom, lounge/dining room with TV with freesat with panoramic sea view. The 2 bedrooms incorporate one double, and one twin bedroom. This villa is situated right on the sea front.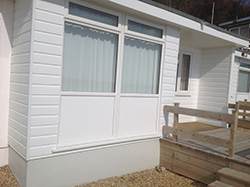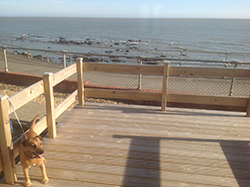 1 Bedroom Villas (2 occupants)
We have two 1 bedroom detached villas, offering superb sea views from inside and outside the villas. Ideal for a romantic get away for couples. For a 1 bedroom villas they offer good size accommodation which encompasses a good size kitchen, bathroom, double bedroom and comfortable lounge with TV with freesat and of course great seaview.